Our Mission
YPC National, Inc. supports and inspires youth choruses and choral conductors across the country with a program of artistic excellence, diversity, and education modeled on the Young People's Chorus of New York City.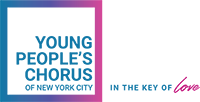 The YPC Model
Over the last 30 years, the Young People's Chorus of New York City (YPC) has become a source of inspiration for many other choruses across the US and around the world, and has received numerous requests for guidance, training, and assistance to develop choruses similar to YPC.
YPC National is our response to those requests. We use the YPC Model to bring together children of various backgrounds to sing at the highest artistic level. In turn, they gain understanding, appreciation and mutual respect for cultures and identities that enrich the communities they live in. Through this model, children learn to recognize the value of everyone's voice.